________________________________________
Luck of Roaring Camp
WRITTEN BY:
Bret Harte
NARRATED BY:
Michael Scott
Cherokee Sal, the only woman in a remote mining camp dies while giving birth. The child is called Luck and is adopted by the complete camp. This exciting story is a touching tale of how the birth of a child brings together an entire community of men in an effort to care and raise the child in the harsh mining environment.
________________
ThoughtAudio PDF Transcript: TA0053_ LuckofRoaringCamp_BretHarte.pdf
________________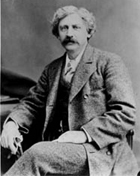 Brett Harte
This American author and poet is best remembered for his accounts of pioneering life in California.