________________________________________


The Red Badge of Courage
WRITTEN BY:
Stephen Crane
NARRATED BY:
Michael Scott
This story is about a young soldier, Henry Fleming, fighting in the American Civil War. It is a vivid and stark portrayal of war on the human psyche, interspersed with symbolic imagery and biblical metaphors. The story realistically portrays the young soldier's physical and psychological struggles after fleeing from his first encounter with a battle. He returns to his regiment to become a strong soldier and even taking on the task of the flag bearer in the final battle. Though Stephen Crane had never been in any combat situations, his interviews with a wide number of veterans enabled him to create this novel, widely regarded as a unusually realistic depiction of a young man in battle.
_____________
ThoughtAudio PDF Transcript: TA0088_RedBadgeofCourage_StephenCrane.pdf
_______________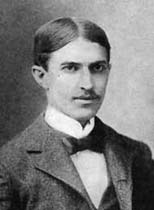 Stephen Crane
Stephen Crane was an American poet, journalist and novelist best know for this novel, the Red Badge of Courage.