The Camel's Back
WRITTEN BY:
F. Scott Fitzgerald
NARRATED BY:
Michael Scott
The Camel's Back is a whimsical story written in the spirit of the Jazz Age where everything always ends up celebrated in the end. When Perry Parkhurst decides that his long-time engagement with Betty Medill has gone on long enough, he presents her with a marriage license and an ultimatum to get married immediately or end the relationship. Unfortunately, the two end up parting ways, and to drown his sorrows, Perry decides to attend a costume party with his pal dressed as a dowdy camel. As it happens, Betty is also at the party. From here a series of events turn topsy-turvy and all ends well.
In the short introduction to this short story, Fitzgerald wrote, "I suppose that of all the stories I have ever written this one cost me the least travail and perhaps gave me the most amusement." The story, he confessed, was written "with the express purpose of buying a platinum and diamond wristwatch which cost six hundred dollars" and took seven hours to finish. Though it was the least-liked story by Fitzgerald in the volume, it was included in the O. Henry Memorial Collection of the O. Henry Award of 1920. Fitzgerald claimed the story was based on an actual incident that occurred in St. Paul, Minnesota, in 1919. "Three friends called up during the evening to tell me I had missed some rare doings," Fitzgerald later recalled, "a well-known man-about-town had disguised himself as a camel and, with a taxi driver as the rear half, managed to attend the wrong party. Aghast with myself for not being there, I spent the next day trying to collect the fragments of the story."
_____________
ThoughtAudio PDF Transcript: TA0005_TheCamelsBack_FScottFitzgerald.pdf
_____________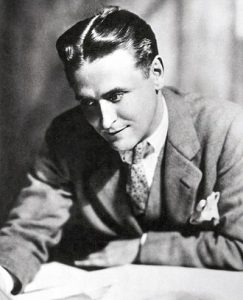 F. Scott Fitzgerald
Francis Scott Key Fitzgerald (September 24, 1896 – December 21, 1940) was an American novelist, essayist, and short story writer. He is best known for his novels depicting the flamboyance and excess of the Jazz Age—a term he popularized. During his lifetime, he published four novels, four story collections, and 164 short stories. Although he achieved temporary popular success and fortune in the 1920s, Fitzgerald received critical acclaim only after his death and is now widely regarded as one of the greatest American writers of the 20th century.